In a normal year 100,000 local residents receive Westside Food Bank's food.   COVID has changed all that — In the past twelve months our food has gone to nearly 210,000 people, and that level of need is expected to continue for many months to come.
Right now it is especially important to strengthen vulnerable populations' safe and consistent access to the full range of nutrients, which improves health outcomes and provides relief from the pain of hunger and uncertainty.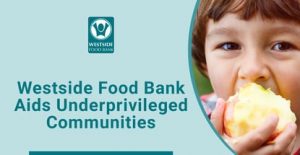 Click here to read  more about our impact.
With food stocking their kitchens, filling their plates, and nourishing their bodies:
In addition to food, many of our member agencies provide services that help the people they serve transcend the destructive effects of poverty and homelessness, such as employment assistance, housing placement, psychological counseling, job training, money management assistance, and parenting classes. Our food nourishes their bodies and minds as they work hard to achieve independent success.
Hear from some of the families our agencies have served over the past 40 years.