Phantom Dinner is back!
---
You are cordially invited to our 26th Annual Phantom Dinner Summer 2022….
This year marks the 26th Anniversary of Westside Food Bank's Phantom Dinner fundraiser. We have always worked to be as cost-efficient as possible, which is why we decided in 1995? not to hold an annual gala but to instead invite our supporters to enjoy a meal at home with their families and ask them to make a donation to Westside Food Bank so that local families facing food insecurity could enjoy that same simple pleasure. Now, with tens of thousands more local people in need of food assistance, our stay-at-home fundraising tradition can have an even greater impact.
This year we want to share with you a little bit about the people who receive our food.
For more than three decades, Bruce has worked diligently to improve access to nutritious food in our community and throughout California. He is one of the founders of, and the Board member with the longest tenure of service to the California Association of Food Banks, which works to coordinate food banks throughout the state to create a more equitable food system through sharing best practices, advocating for better food policy, supporting the state's agricultural system, and providing food to people in need.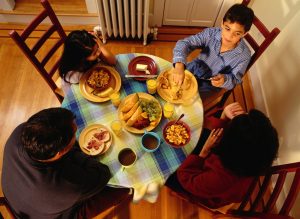 Bruce has been a powerful advocate for low-income individuals and families over the years, and his efforts have resulted in removing barriers and improving access to CalFresh and other government safety net programs, better coordination of food programs throughout Los Angeles and California, and sustaining a robust network of food assistance programs for anyone in need on the Westside of Los Angeles County.
Bruce is a longtime Board member of the Westside Coalition on Housing, Hunger, and Health, and has played a pivotal role in amplifying the impact of that network of service providers, faith organizations, government agencies, and concerned citizens working to improve the day-to-day lives of the most vulnerable members of our community.