Register For Free, and Walk From Home Oct. 17th – 24th.
Donate to Support the Hunger Walk or a Specific Walker or Team 
Tune in on Facebook or YouTube at 1pm on Oct. 17th and Oct. 24th for our Live Broadcasts to Start and End the Hunger Walk.
Thank you. Let's End Hunger!
Last year, Westside Food Bank doubled our food purchases to keep up with the immediate high need caused by COVID-19. We're distributing twice as much food for twice as many people in response to the food insecurity so many people are now facing. Help us continue to meet this emergency need for food assistance and raise awareness about hunger by walking a 5K at home with your friends and family between Sunday, October 17th and Sunday, the 24th.
Here's how it works:
1. Register for free at my.wsfb.org. You can create a team if you'll be walking or fundraising with others, or join a team if it's already been created.
2. Claim your fundraising and/or team page by following emailed instructions. Set a fundraising goal and customize!
3. Share & Fundraise. Send the page to your friends, families and coworkers to raise awareness about hunger, encourage them to do their own walks or donate to support yours. Download a Fundraising Toolkit and Email Templates if you want some help getting started.
4. Pick up your free t-shirt. Every walker receives their own free Hunger Walk tee-shirt. Pick-up details are pending.
5. Tune In. Make sure to catch the Hunger Walk kick-off pre-show on Sunday, November 8th at 1pm, and closing award ceremonies for top fundraisers the following Sunday, November 15th at 1pm. Details to come.
6. Time to walk! You'll have a week to complete your 5K, starting on Sunday November 8th. You can walk in your own neighborhood or on your favorite hiking route, alone or with those in your family or pod. You can track your route using your smartphone's fitness tracker or the RaceJoy App, which comes with extra encouragement and entertainment. Make sure to wear a mask and stay six feet apart from any other walkers!
7. Say Cheese! Take photos & videos of your personal Hunger Walk and share them online using the hashtag #WSFBHungerWalk and tagging Westside Food Bank (@westsidefoodbank on Instagram and Facebook, @Wsidefoodbank on Twitter). Sharing photos & video is a great way to update your supporters and spread more awareness about hunger. We'll share your photos on our own feeds and one lucky walker will get a free gift!

---
Visit our 2019 Hunger Walk Facebook album to see pictures from last year's event: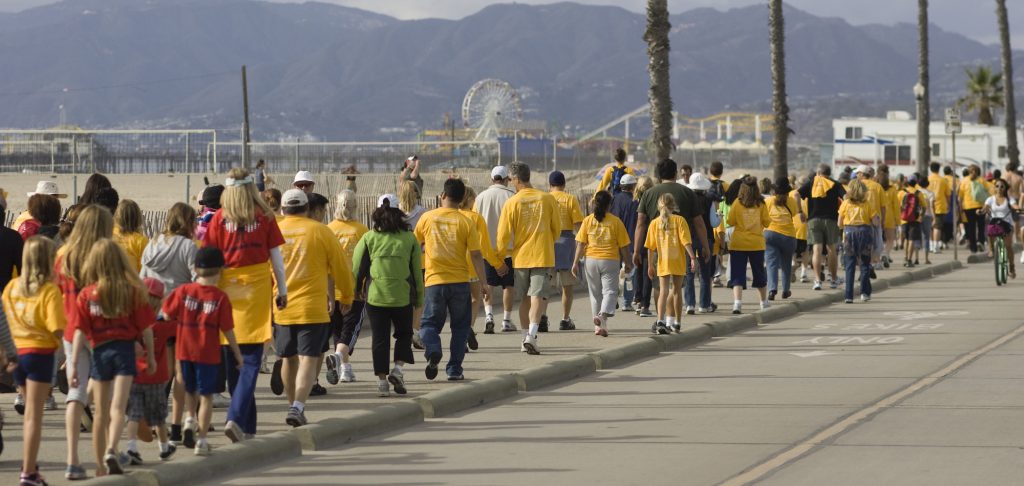 …and check out the four-legged hunger fighters in our Paws of the Hunger Walk Facebook album: